JenniferSoft attends at the worldwide performance management conference, CMG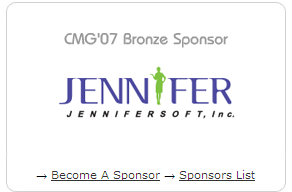 The APM market leader, JenniferSoft (CEO, Won-young, Lee) will attend a'2007 CMG Conference which will be held on December 2nd through 7th in San Diego. It has remained its position for the consecutive 3 years by taking 70% of market share since it has launched its solution called 'Jennifer' in 2005 in Korea.
Although CMG is not widely recognized in Korea, it is the worldwide non-profit association of system performance professionals responsible for planning, measuring and managing the world's largest IT infrastructures. CMG organizes the conference in annual December and gives solution vendors chances to introduce and promote their performance solution. Therefore, many performance solution developing companies attend at the conference.
In this year, 32 IT companies including BMC Software, IBM and CA plan to attend at the conference. Especially, JenniferSoft (booth # 215) is a sponsor of CMG Conference as an only Korean S/W company and will actively promote its solution.
CEO of JenniferSoft said that
"I expect Jennifer's competitive technology especially, real-time monitoring and response time scatter graph will be highly evaluated because many worldwide performance experts and companies will visit CMG. Of course, he added that I'll not just publicize our technology." "I will also focus on creating business opportunity by communicating with other performance professionals. I really hope that Korean #1 APM solution company shows its business ability in the global market. As JenniferSoft Japan which has already established partnerships with big major solution distributors, Mr. Lee expects initial business opportunity will be created in the U.S market as well through the conference."
Jennifer has drowned huge attention from architectures of SUN, IBM, SAP, etc in the last May internationally when it was introduced in JavaOne conference. JenniferSoft also attended "Japanese Sun Tech Day 2007" in the early of November this year. Many visitors had great interests about Jennifer.
JenniferSoft will continuously attend global exhibitions and conferences to advertise the benefits of Jennifer.
One of interest thing is that you can see and feel conference atmosphere in real-time through JenniferSoft's website (http://www.jennifersoft.com). We look forward to your continued interest and participation in the event.