JenniferSoft is a GOLD sponsor of JCO (JavaCommunity.Org) conference.
JenniferSoft sponsors 'the 9th Korea JCO Conference' held by JavaCommunity.Org on 16th Feb, 2008 at COEX Grand Ballroom.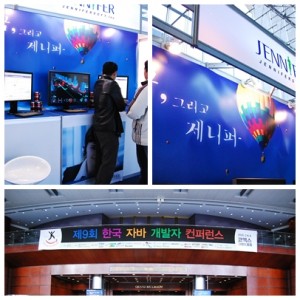 In this year, more than 4500 visitors will enjoy 30 of fruitful Java sessions and discussions at this largest event ever held in Korea. This conference will promote knowledge sharing among great Java developers, students and business people who are related in Java technology. Especially, Sungjo, Kim, R&D director at JenniferSoft will give a lecture about APM, application performance monitoring focusing on resource. Mr. Kim will redefine performance resources and introduce an effective monitoring concept using response time scatter graph to detect performance bottlenecks.
At the outside of lecture loom, Jennifer, the number one solution in Korean APM market and Ecclus which is next generation UI developed by 3-D technology will be exhibited. Many visitors can enjoy cutting edge technology of JenniferSoft and new market trend. We hope many of you visit JenniferSoft booth and enjoy the conference.
If you want more detailed information about JCO conference, please connect marketing dept of JenniferSoft (marketing@jennifersoft.com/+82-2-2027-0398). Thanks.
Event: The 9th Korea JCO Conference'
Organization: JavaCommunity.Org
Date: 16th, Feb, 2008
Place: at COEX Grand Ballroom