"JENNIFER responds to market trend with having in-depth technology and insight."
Given APM is monitoring various applications, we are asked numerous requests from various stakeholders. If we strive to meet such requests only, our APM could end up being one of typical solutions. What matter is to find "the most efficient and effective way of monitoring and analyzing" as IT environment keeps changing. Because we believe that the end users will use a product that provides the necessary features they really need.
What Our Customers Achieve
There are many steps and complex dependencies involved in system development and operations management. APM solutions typically come into play after system development, at the integrated performance testing stage. After system launch, APM underpins monitoring and long-term performance management. Performance failures are mostly caused by application implementation issues during actual operations.
Application Performance Management (APM) is an essential business infrastructure for prevention of application failures, service interruptions, and the resulting impact on competitiveness. If APM is deployed, applications can be operated in a more stable fashion through fault detection, monitoring and advanced prevention techniques.
In today's complex enterprise environments, end-to-end monitoring of everything can lead to unnecessary additional development cost and increased management cost when expensive new solutions are introduced. It can also lead to a loss of professionalism in parts of a company, so it should be carefully thought through from a return-on-investment perspective.
---
What is the most important thing to consider when rolling out these solutions?
Effective Implementation of Performance Management Processes
"For cost-effective enterprise system availability, it is most important to establish a performance-monitoring and fault-handling strategy and to put effective performance management processes in place."
If a company is considering introduction of an APM solution, it should take stock of its current performance in delivering real-time services and in fault handling for internal applications. Definite goals should be set, but based on a firm foundation of stable customer services and rapid analysis of the root causes of application problems.
Very low Overhead
모Performance overhead in the systems being monitored should be minimized. APM certainly has the potential to cause performance degradation as it collects data and monitors services, and such problems may not be tackled successfully by unproven solutions, particularly in massively transactional environments. JENNIFER, however, has proven itself in online banking, web portals, e-commerce sites, etc., where huge numbers of transactions occur.
Highly Professional Products for APM Applications
APM, because of the activities it involves, can have a direct influence on the quality of services provided to customers. So, stability is a very important characteristic. And, of course, APM should provide a professional level of monitoring and analysis that draws on genuine expertise.
JENNIFER is an intuitive, integrated performance management solution. It has a small footprint, provides real-time data, and can even monitor individual transactions. Its capabilities also include real-user monitoring for the Web, a topology view for Web environments, cloud architecture compatibility, and HTML 5 based N-screen monitoring. With more than 1000 clients currently using JENNIFER, its stability and quality are well proven.
---
Benefits of JENNIFER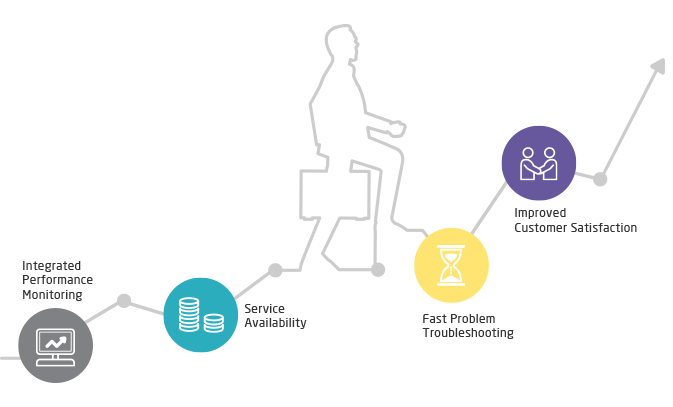 Integrated Performance Monitoring
JENNIFER provides comprehensive and integrated performance monitoring through its many dashboard views, which include Real-user Monitoring and Real-time Topology.
Service Availability
JENNIFER analyzes statistical data regarding system resources, application performance and errors with a view to achieving continuous and optimal service availability.
Fast Problem Troubleshooting
JENNIFER's continuous monitoring helps with rapid detection and troubleshooting of performance problems. That can help prevent the problems from affecting service availability later.
Improved Customer Satisfaction
Minimizing system downtime and improving overall performance at the application and system levels greatly improves customer satisfaction.