Large-scale Web systems use a lot of instances to execute the same service. It is possible to monitor the instances through real-time grouping.
JENNIFER also provides Auto Scaling feature under the Cloud environment. Based on expandable architecture, JENNIFER allows you to run integrate monitoring on large capacity service.
Cloud computing is revolutionizing how IT resources are used and managed. Administrators can now setup or take-down virtual servers in minutes as needed – also the applications that run on them. To really benefit from a cloud environment, the flexibility and convenience that it offers in terms of hardware resourcing has to be matched in the application deployment and performance management space. JENNIFER provides the following three features, which support application performance monitoring in a cloud environment.
JENNIFER allows you to monitor the increase and decrease of instance in real-time from the point of constitution. If the instance does not increase while the active service is increasing, you will be able to control remarkably increasing traffic by applying Auto Scaling.
---
JENNIFER Repository(BIG DATA Processing and Analysis)
The JENNIFER repository is designed to support flexible expansion of architectures. Users get all the benefits of big data analysis but there are no unnecessary costs when it comes to system expansion.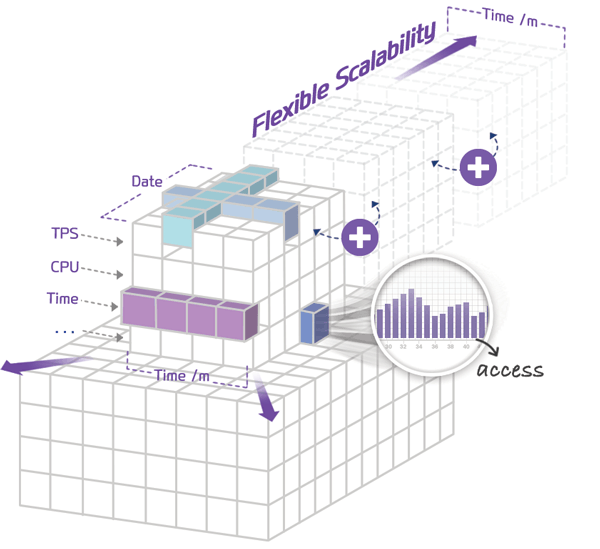 ---
Web Service Real-User Monitoring
The performance of a web service is no longer measured in terms of hardware and software usage alone. Customer satisfaction is fast becoming a key performance indicator across virtually all industries, and web services are not immune to this movement. Companies are looking to monitor accurately what customers are experiencing when they use the services, so that they can make improvements to the process and achieve higher levels of customer satisfaction. To answer this need, JENNIFER now offers a real-user monitoring (RUM) feature. JENNIFER measures transaction response time from browser to server, providing a detailed analysis of the application's performance as it traces a user activity path employing the web service.

---
PLC(Peak Load Control​)
By using PLC, you could control the level of service load through user-defined threshold. The PLC is built upon real-time active service monitoring of JENNIFER. The feature would prevent the possibility of shutting down your entire system due to unexpected explosion of user (for instance, course application at school, ticket reservation service or events at shopping mall.) Users can choose necessary service they need to maintain the level of threshold. They could run relatively important service or limit the use of service that is not important when threshold reached the limit users defined.

Once PLC is activated, it would send the message of reason why related request was not processed to users who could not use service by their browsers.
Display defined text message
Redirect to defined HTML page
​
When PLC is activated above the level of threshold, users could monitor on-going status in real-time through the speed meter of dashboard.