Korean S/W developers' splendid achievements at overseas conference
Recently, Korean S/W developers attended at the world renowned industry conferences and started to actively engage in foreign businesses. Korean ERP consulting company, LAPHA & COMPANY, attended at SAP annual Sapphire conference last month. Following it, an APM solution leader, Jennifersoft(formerly known as JSC) also attended at 'Java One' conference which is the largest event among Java developers, held in San Francisco on 11th, May.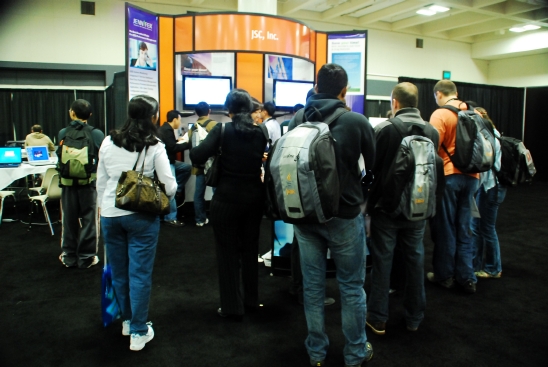 Jennifersoft set company booth to publicize its solution 'Jennifer' Only Jennifersoft was Korean developer among many world leading S/W companies at the exhibition and laid a foundation for its overseas business. Especially, it's noticeable because a Korean company attended at Java One conference in 4 years.
Established in 2005, Jennifersoft draws huge attention in APM market by launching Jennifer APM solution. Jennifersoft has overtaken other rival companies like CA and Symantec and now occupies more than 50% of domestic market share. Based on product quality and business experience, it opened a branch office in Japan and established partnerships with famous IT companies such as FUJITSU, HITACHI and MARUBENI. Through the experience at the conference, Jennifersoft plans to establish a branch office in this year and start its business in America. At '2007 Java One Conference', all employees of Jennifersoft attended and enthusiastically publicized their company and APM solution-'Jennifer'.
The CEO of Jennifersoft, Lee Won-young said "In the fierce competition with other foreign rivals, Jennifer won because of its advanced technology " and "We witnessed high attention to Jennifer at the conference and believe that Jennifer will rank 1st in the world APM market within 5 years."
mint@inews24.com
source; http://www.inews24.com/php/news_view.php?g_serial=261956&g_menu=020200