JENNIFER 5, Jennifersoft APM Solution, registered to Gartner's Magic Quadrant
JENNIFER 5, Jennifersoft APM Solution, registered to Gartner's Magic Quadrant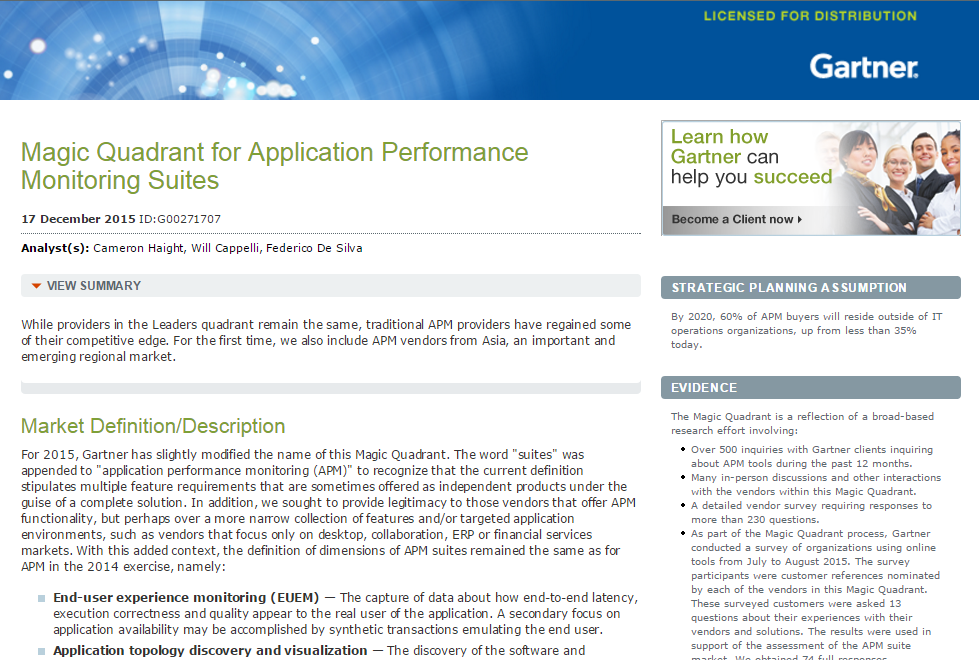 Among local solutions, JENNIFER was the only registered in Gartner's Magic Quadrant on APM area.
JENNIFER was registered in Gartner's Magic Quadrant. Only JENNIFER was registered among Korean APM solutions. A few of local companies such as TMAX Soft or Altibase put their name on DMBS, (Data Base Management System) however, JENNIFER is the only local brand on APM. Gartner publishes the Magic Quadrant report by evaluating multidimensional factors such as feasibility, sales and pricing policy, market response, performance, marketing implementation, customer experience, and degree of completion.
The completion of technology or vision is displayed on the X-axis, while the feasibility is displayed on the Y-axis. By analyzing the market landscape and competiveness of related companies, the result is displayed as Leaders, Challengers, Visionaries, and Niche Players on the two axes. Gartner evaluated JENNIFER as Niche Player on its Magic Quadrant this year.
Gartner evaluated Jennifersoft as follows.
"Jennifersoft is registered on our Magic Quadrant for the first time in 2015. While the company is located in South Korea, it has gained huge support from local companies over the past 10 years. Jennifersoft provides the entire software through its business channel, and it has improved the core capabilities to expand its business to Asia and Europe. Although Jennifersoft is relatively small, the company successfully developed the JENNIFER DB under its own platform. Lately the company published its UI as an open-source (JUI.) Unlike other APM solutions, JENNIFER 5 has its graphically unique UI (User Interface.) The solution allows users to minimize the level of transaction if it is excessively concentrating on the application server."
"Jennifersoft has unique corporate culture compared to emerging rivals (especially those in Silicon Valley.) The culture is unique in many ways including employee benefits, and the company takes great care of its clients. Such corporate culture results in high level of retention rate. Collecting and visualizing application related information in real-time is the main strength of JENNIFER 5."
"The size of a company still matters to be competitive. APM market is no exception. If Jennifersoft desires to succeed in overseas, it is necessary to dramatically reinforce the capacity of its brand, sales and technical support. Given the company provides products completely through its vendors, it is likely to struggle competing large companies with their own sales team. The company might need to consider providing Software as a Service."
The global APM market is rapidly growing every year. According to Gartner's research, the APM is recorded as the highest growth rate in ITOM (IT Operation Management) area. While large software companies in terms of company size, sales and product coverage are fiercely competing, there are tons of APM solutions on the market. With only WAS-centric solution, Jennifersoft is registered in Gartner's MQ, standing side by side with global leaders.
Jennifersoft has concentrated on coming up with a software by putting every resources from developing Web Application Management. The product would include the industry's first technology such as monitoring on individual transactions in real-time. By working side by side with end-users, we were able to learn more about continuously evolving IT environment and development trend. Most of all, we have increased global competitiveness by competing with imported solutions.
Although Gartner recognized our channel sales as weakness, Jennifersoft will continue to do so. We concentrate on what we do best to remain flexible.
If a software company would like to succeed in overseas, it is necessary to secure sales resources who know well about related markets and technical supporting team. The company also needs to get ready for localization. As the status of software market is rapidly changing, it is hard to predict what comes next. Jennifersoft will concentrate on developing and marketing quality products, and sales and technical support will be completed by our partners. By working together with partners, we believe we could build up a business ecosystem that Jennifer and partners are growing together.
As JENNIFER is registered on Gartner's Magic Quadrant, we believe our technology is recognized in the global field. We take this result to pave the way for going global, rather than satisfied with succeeding in Korea and Japan.